Generac Generators
---
Like grid generated power, solar power is used as it is generated. To have power when the grid is down or the sun is not available, you need backup systems like a generator or battery backups.
In general, a gas generator is more often more economical when it is supporting a large load for extended run-times. However, if your load is small enough or the backup support time is short, a battery backup is often a more economical option.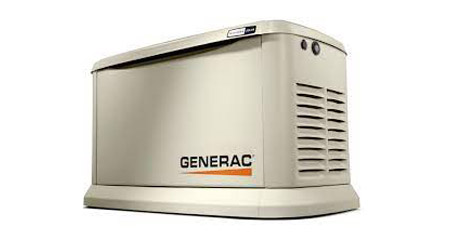 Solar Systems and Power Reserves
We work closely with you to determine your precise needs so that we can create a unique system tailored to your property.
Depending on your needs, solar systems can function independently from other energy sources for off-grid operations in the event of power outage in the grid.  Energy storage comes in the form of batteries from Enphase, Generac and SolarEdge.
How Generators and Solar Power
Work Together
Solar energy is a dependable renewable energy resource, but depending on factors like the weather and the amount of sunlight a property gets each day, we might recommend a generator for your system.
Risks such as power and grid outages, frequent inclement weather, inadequate access to sunlight, and more can impact the efficiency of a solar system.
If an issue occurs that prevents the system from harnessing solar energy, a backup power reserve ensures you never run out of power, even in an emergency.
To ensure high-quality results with our energy systems, we recommend trusted energy appliances to maximize solar potential. There are several options to choose from when selecting a solar power generator, but our extensive experience in the solar industry has helped us find the best energy solutions available.
Kohler generators are ideal for solar systems installed in areas prone to power outages, bad weather, and natural disasters, and have a lifespan comparable to our solar systems for long-term renewable energy access.
Get a Free Consultation
Call 724-691-0628 or email info@addstarpower.com for your free consultation. Or to learn more, simply ask your questions using our easy-to-complete contact form. We look forward to hearing from you.